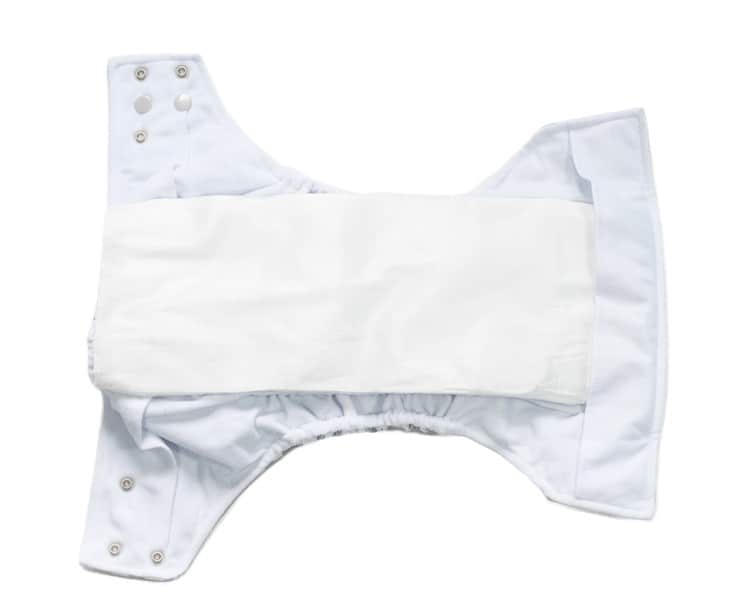 How do I use these?
Tear off one liner sheet and place it between the diaper and your baby. Once soiled, either toss in the toilet with solids or hand wash and reuse urine-only soaked liners for second-time use. Liners may also be used as a diaper liner barrier when using traditional diaper rash cream.
---
Are these flushable?
Yes…for the occasional throw-away, however they are not recommended for septic systems. Flushing may cause blockage in older household drain systems, so please use your discretion.
If you use liners every day, we actually recommend tossing the solids in the toilet and the liner in the trash as too many liners, just like too much toilet paper, can back up a toilet.
Diaper Dawgs is not responsible for damage to individual drain systems.
---
How can these be reused?
Used liners that have urine only can either be hand washed with a soap that works with your baby then air-dried. You may also toss directly into the washer with cloth diapers that have SNAPS ONLY (otherwise, they will stick to velcro). We do recommend hand-washing over using the washer.
So we finally got around to using these liners and we love them! We use liners 100% of the time (my husbands reluctant to get a sprayer). We've used many liners and these ones are so soft and hold all the poop! Some that are out there are stiff and let waste pass through!! The size of the liners is perfect, fits just about all our diapers. Even when I finally convince my husband to get us a sprayer, I still plan on using these for daycare. Makes life THAT much easier come laundry day. I haven't tried reusing these yet — that's next on my list, but I have a feeling they'll hold up through at least one more use. Also, during and after a stomach bug, I had to use a stronger diaper rash cream on my daughter and used these liners to protect the diapers. The cream stayed put and nothing passed through the liners. So, yay!

— Michelle, a Dawg Owner